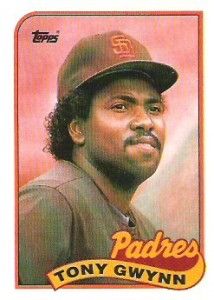 It only makes it harder to watch our current Padres, who truly make hitting a baseball look as hard as Ted Williams always said it was, when one can still remember seeing Tony Gwynn come to the plate.  Nobody ever worked as hard to make hitting a ball look so easy as Gwynn did.  And no one in my memory was as successful at it.
Maybe I should start at the beginning. My dad grew up in the Northeast, and he loves baseball and he loves basketball.  When I was in high school, he and I would go to the San Diego State basketball games.  Tony Gwynn was the point guard on the team.  They had a pretty good team in those years, and Tony was really good.  He wasn't a huge scorer, but he 'handled the rock,' as they used to say, and saw the court well. He made his teammates a little bit better than they would have been without him.  I think it was during his sophomore season that we found out that he played baseball too.
Legend has it that he was drafted by the San Diego Padres and the San Diego Clippers on the same day.  History will record that he made the correct choice in the days that followed.
Not that the Padres were such a great destination for someone with such greatness inside.  No, the Padres of my youth would be a team that you would wish on someone that you didn't like.  They had never finished higher than fourth in their division, they were never able to afford to pay enough to attract star talent, they were completely ignored on a national and sometimes even a local level, and (maybe worst of all) they always seemed to wear some of the ugliest uniforms you'd ever seen. But that was all soon to change.  Respect, if not success, was coming our way. 
Even the years when the team was bad (which there were many, even with Gwynn) you didn't have to be embarrassed to be a Padres fan, because Tony was part of the team.  I was with my wife & kids in 1997 at Veterans Stadium in Philadelphia where the Padres and Phillies (because of an earlier rain-out) were playing a doubleheader.  In the first game Tony went 3-3 or maybe 4-4, but the Padres were hopelessly behind. Bruce Bochy took Gwynn out of the game for a pinch-runner after his last single, and he left to an ovation so loud, you would have thought you were at the Q. 
In 1999, Tony was chasing 3000 hits, but as would become common in his later years he missed some time due to injuries.  He'd just come off of the DL before a Sunday afternoon game I was at, but he didn't start.   Late in the game, the Padres had the go-ahead run at third with only one out. The cheers began when #19 stepped out to the on deck circle.  It was so loud when he was announced as the pinch-hitter that I never really heard it. I just sensed that his name had been called.  Tony hit the first pitch that he saw deep to left field where it was caught.  Of course, it was deep enough to drive the run in from third.  It was like he was saying, 'sure, I could get a hit, but this is what the situation called for.'  The ovation was tremendous as Gwynn trotted back to the Padres dugout.
Later that summer the team was headed on a long road trip that Padres fans had been dreading.  We knew that barring another injury, Tony would be getting his cherished 3000th hit in another city.  It was some comfort to know that six of the games would be in St Louis and New York, where at least, there would be good baseball fans on hand to appreciate the achievement.  They were also going to Montreal.  I think we've all seen  the highlights enough to know how that turned out.  What might not be as well remembered though was that the night before, in St. Louis, Gwynn got hits 2997, 2998 & 2999, while being cheered as loudly as Cardinals slugger Mark McGwire, who only happened to hit his 500th home run in the same game.  It wouldn't be the last time Tony would share a special day with another player.  In October 2001, Tony's last game in the big leagues, teammate Rickey Henderson made
his
3000th hit.  Henderson, never particularly known for his humility, insisted on being removed from the game so as to not further take the day's spotlight away from Tony.
Even as a statue was being put up, and a street outside Petco Park was being re-named for him, Tony Gwynn kept going to work each day as the Head Baseball coach at his alma mater.  When the college season would end, he'd sit in with the Padres broadcast team and try to figure out why today's hitters have such a hard time doing what he always did so well.  And made look so easy. For so long.
It might have been the one hitting question he couldn't answer.
Rest in Peace Tony. 
(Brian, perhaps taking some liberties with the band site. We promise more on Wookie Garcia next time...)